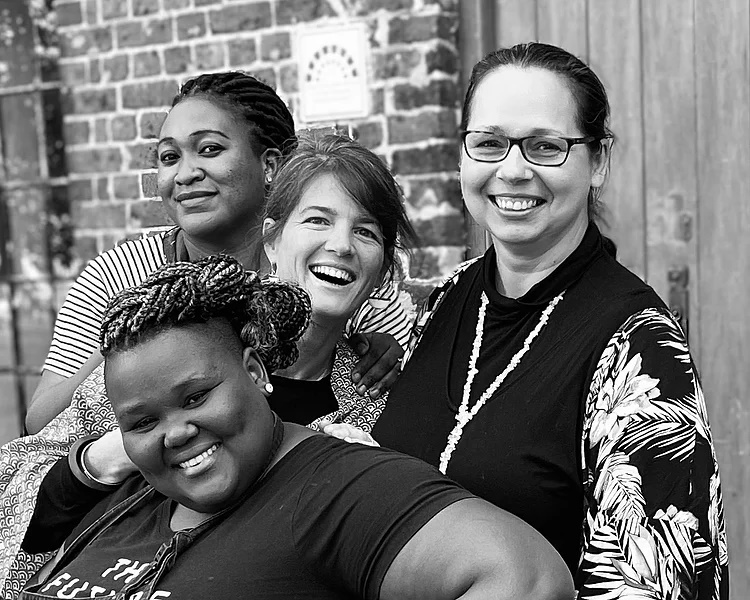 Our Story
We bought Marrow as a family, and we have become a larger family since. It meant extending what family meant and creating a unique sense of possibility- a connection between wellness, sustenance and connection.
After being perturbed by the mainstream narrative of introducing solid food to my baby boy, I delved deep to gain an understanding of our bodies, and gut health.. Bone Broth resonated with me and intuitively felt like the perfect next step. Both my children lapped it up and loved it. My sister-in-law Marelize was my role model for how I wanted to introduce my children to food. She and my brother had children 10 years before I did, and the way their children engaged with food was all due to how Marelize went about relating them to it from their earliest days.
We both have children and we both love healthy nutritious food.
We found Marrow due to it being part of a "ritual" of working in and around the city. When we bought Marrow we both wanted to give this joy of healthy, nutritious and wonderful food to people, and especially mothers. Who are run down, need a quick solution for eating themselves and then provide them with an alternate route to introducing solids to their babies.
Cynthia was already an integral part of Marrow, and we adored her, and wanted her to be part of our new journey. We then employed Noni and cannot express in words how grateful we are for having her as our head chef. These glorious kitchen fairies are the reason we are still in existence today.
We have become a family. We laugh together, we cry together, dance together. We plan together and we create together.
Nadia Lubowski.
Nadia is a mother of two beautiful children, Anton-Lucien aged 5, and Freya Isabella aged 3. She is happily unmarried and deeply in love with her partner and father of her two children, Fred. She was born in Namibia and moved to Cape Town in 2001. Good food and family celebrations were at the heart her childhood and she carries endless memories of food being a very central part of growing up. She studied endlessly and is now an early childhood specialist working with young children. The knowledge of how interlinked our emotional, physical, mental and spiritual aspects of being human are drove her to delve deeper into food and nutrition. Her passion for health and well-being simply exploded. Her love and passion for Marrow is tangible and she works tirelessly to keep it going.
Marelize Lubowski
Marelize grew up in a household and with extended family where the kitchen was the heart of the home. This is where everyone came together to chat, keep the cook company and help. It was a family affair. Hearty meals like soups, stews, curry, oxtail, potjiekos and tripe were regularly enjoyed. All of these dishes contained meat on the bone and were cooked slowly for hours. She was taught that the best part is inside: the marrow. One of her favourites is sult - cooled down tripe that is forms into a solid jelly which is cut into blocks. As a teenager she skipped the usual skin issues, learning from her mother who consumed gelatin in hot water with lemon every single morning for strong hair, nails and youthful skin. She has many fond memories like these of the power of nutrition and it moulded her food foundation. Now in peri-menopause, Marileze started making broth at home, an extension of her love of natural health solutions including food, herbs, essential oils and more. She jumped at the opportunity to join the Marrow journey with Nadia and share good ancient food secrets with others.
Marelize is married to Almo (Nadia's brother) and they are blessed with two beautiful and amazing teenagers, Amelie and Tariq-Anree, becoming young adults and loving every step of the journey. She trusts that a foundation has been laid for them to follow their own inner 'gut' guidance (heart, mind, body, soul & food).
Her family continues the tradition of connecting in the kitchen and around the table, and always makes room for others to pull up a chair.
Noni Maarman.
Noni is 35 years old, born in December 1985. She is the mother of two boys- her own aged 13 and her nephew that is 7. Her sister unexpectedly passed away in December 2020 and sadly left her son behind, but he's been welcomed into Noni's home where there will always be a place for him. Noni is originally from Port Elizabeth, Uitenhage and moved to Cape Town in 2003 to study hospitality. In 2011 she started working at the Cape Royal Hotel and this is where her passion for food exploded. She learned an exceptional amount from working there. She has worked at Italian, Mexican and other restaurants before making her way to Marrow.
Her heart is the size of an ocean, and is evident in that she initially wanted to study to become a social worker as she so badly wanted to help others. That's exactly what she does now, spreading love and care by cooking and catering for others. You can taste the Noni's love in every sip of Marrow broth.
Cynthia Mthiya
Cynthia, or Cynthia Nhoxi as she likes to be called, is 36 years old, born in July 1985. She comes from the Eastern Cape, Mtata and lived in a village called Sibangwene. She is the mother of a beautiful baby boy Emanuel who is almost one years old.
Nhoxi moved to Cape Town in 2013 as she was the only one working in her family. In 2015 she started working at Pick 'n Pay at their deli section, and then moved on to work at King Pie. In April of 2018 she started working at Marrow and this is when her life began to change. The biggest change then came after the birth of her son. She is so grateful to be a mother as she never thought she would be so lucky to be one.
At Marrow, Cynthia is Noni's right hand woman. Together they keep our kitchen immaculate and create our beautiful meals together.